RIDDEN HORSES
Scorsese : Sarkozy x Warkant x Akzent I 2011 Bay Gelding
This gelding is a true gentleman with 3 very good supple paces and hacks alone. He has a bright future ahead of him. Like his father he has an excellent, correct walk and well muscles hind quarters with a good hind leg. He was the highest placed foal at his BHHS Regional show.
Sarkozy (Sandro Hit x Weltmeyer x Bogenschutze v. Bolero) was Vice Bundeschampionade as a 4 year old and Champion Hanoverian Riding Horse in the same year. As a 5 year old he was 5th at the World Breeding Championship. His 1st crop of foals produced the reserve foal champion at the German Foal Championships and subsequently there have been many top priced auction foals. Sarkozy boasts one of the best walks of any dressage sire.
| | | | |
| --- | --- | --- | --- |
| | | Scorsese 2014 | Scorsese 2014 |

Suestado : Sandro Hit x Warkant x Akzent II 2010 Bay filly.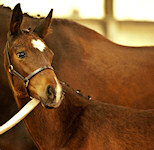 This beautiful filly is ultra-modern, excellent type and very feminine. She is the full sister to Elite Spinning World who was the performance test winner and Elite in both jumping and dressage. This filly received a high 1st at the BEF Futurity in 2010.
Sandro Hit (Sandro Song x Ramino x Welt As) is the sensational black beauty has produced 30 licensed sons including several champion stallions, 120 state premium mares and 11 Bundeschampions to date. He constantly produced top auction foals and riding horses. His dam Loretta also produced Diamond Hit and Royal Hit. Through his genes he passes on beauty and amazing gaits.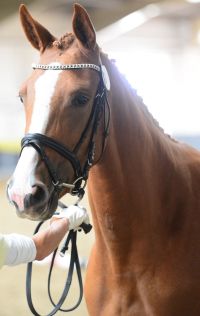 Borasco : Buddenbrock x Wittinger x Cavalier 2010 Chestnut filly
This chestnut filly is from an outstanding mare line. Her mother Wanda, was a Champion mare and Champion 2 year old in her own right. She has produced a Champion foal (Ballet Time by Bertoli W), a Champion mare (Diminuendo by Don Frederico), Champion 2 year old (Lucille by Lauries Crusador) and BWBS mare performance test winner, Woodlander Rallentissez. Buddenbrock, an Elite Trakehner, has been used to produce more refinement in the pedigree.
Buddenbrock (EH Sixtus x Diamant x Burnus AA) was a successful eventer in his own right, qualifying for the Bundeschampionate. As a Trakehner he produces refinement and type necessary for the modern sports horse.He produced the highly successful licensed stallions King Arthur and Connery from his 1st foal crop. Buddenbrock has produced more than 10 licenced stallions to date. This Elite stallion was Trakehner stallion of the year 2010.
This filly has been backed and broken. She has an outstanding temperament and was immaculate well behaved. She travelled and performed to an audience after only being ridden 7 times- and never put a foot wrong.
Video available.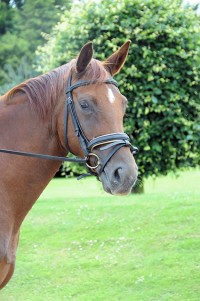 Brioso : Benetton Dream x Dimaggio x Warkant 2010 Chestnut filly
Like her half brother, Il Divo, this filly exudes suppleness in all her gaits with a strong powerful hindquarters and plenty of shoulder movement. She has an excellent temperament and is keen to please.
Benetton Dream (Brentano x Rotspon x Davignon) was Hanoverian Champion 3 year old stallion 2007 and Bundeschampate winner 2007 in the same year. He was a finalist in the 5 year old Bundeschampionade 2009. At his performance test (30day) he received a 10 for walk, 9.5 for trot, canter and general impression and 9 for conformation. All outstanding scores. He is currently competing at S-level/PSG and presented his 1st crop of foals this year as 2 year olds at the stallion selections.
Brentano II counts among the 10 best dressage breeding stallions. Apart from his valuable damline, the exceptional dressage stallions Bolero, Rubinstein and Donnerhall are combined in Benetton's Dream pedigree.

Siena : Sergio Rossi x Dimension x Rivellino 2009 Black filly
Black, uphill, with 3 very correct gaits and a strong hind-quarters. Siena was the BWBS Champion 2 year old. Backed and ridden away. This filly received a BEF higher 1st in 2011 and in 2012 making her a consistently high score over 2 years. Her mother, De Luxe was purchased from the Munster Auction and successfully trained to Inter 1 at a young age. Her half brother, Santa Claus by Samarant, was a finalist at the Moloh Badminton Young Dressage Horse in 2012.
Sergio Rossi (Sir Donnerhall I x Rosenkavalier x Angelo xx) placed well in his performance test, receiving 9 for temperament and rideability, 9.5 for character, and 9.25 for his canter. His great granddam Dodone is the dam of 3 times Olympian Ahlerich by Angelo xx. Ahlerich was full sister to Adone who produced Royal Angelo I & II and Rembrandt. He was very quiet as Gestuet Vorwerk was sold with very few appearances but returned successfully this year finishing 8th in the 6 yr old Bundeschampionate.
This filly has done everything asked of her. Lightly competed in young horse classes in 2013 including the Moloh Badminton Young Dressage class. She has qualified for the BEF Equine Bridge. This is a horse for the future.

Ballet Time : Bertoli W x Wittinger x Cavalier 2009 Chestnut Filly
This filly from Wanda, has consistently achieved high results. She was the BWBS Champion foal and received a BEF Higher 1st in 2011 and 2012. In 2012 she was Champion 3 year old at the BHHS Annual show, Youngstock Champion and Reserve Supreme Champion. Dr Ludwig Christmann from the Verband enthused about her superb athleticism and excellent gaits.
Bertoli W ( Breitling x Diego xx x Palisander) is a very successful young stallion who at the age of 9 successfully competed at International Grand Prix, with his owner/breeder Wolfram Wittig. He has been successful at all levels competing at the Bundeschampionade as a 6 year old, finishing 2nd in the qualification round and then placed 7th overall in the final. Bertoli W is one of several very successful Breitling W sons, many of which are successfully produced to Grand Prix by family Wittig.
Qualified for the BEF Equine Bridge.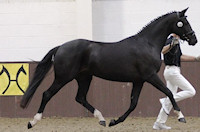 Elite Spinning World : Sandro Hit x Warkant x Akzent I 2008 Black filly
Truly beautiful, stunning filly, with top marks in her BHHS stud book inspection. She received her 1A prize at the BHHS Annual Show in 2011 and won the BHHS Mare performance test in 2012 with top scores in dressage and jumping. She has an exceptional temperament, very good gaits and a willingness to learn.
2013 Competed in Young Horses Classes finishing 4th at Wellington in the Shearwater Potential International Class and qualified for Hartbuty British Young Dressage Horse.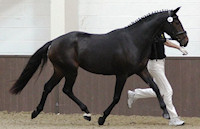 Lucille : Lauries Crusador x Wittinger x Cavalier 2008 Bay filly
Top quality filly with immaculate breeding. The inclusion of Lauries Crusador makes her the ultimate model for future breeding due to his undisputed refining influence. Lucille was BHHS Champion 2 year old and also received her 1A prize at the BHHS 2011 show.
Lauries Crusador (Welsh Pageant xx x Square Note xx x High Note xx) was Hanoverian stallion of the year 2006. He is recognised as the best Thoroughbred ever introduced to the Hanoverian breeding population. He has to date 54 licensed sons and 232 State Premium daughters.
2013 colt born by Furst Romancier