BROODMARES
Our breeding program is based on German bloodlines. Germany has been established as a lead producer of competition and sports horses for years and acts as the foundation bloodline for many of the other German and European stud books. With their extremely demanding system of stallion licensing, mare shows and mare performance tests they have excelled in consistently producing modern refined sports horses. The quality of the mare is fundamental in producing good offspring and we match our mares and stallions carefully. Temperament in combination with good conformation is paramount.
Wanda
(Wittinger x Cavalier x Eisenhertz I)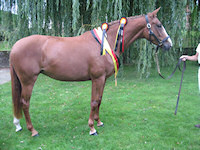 Ballet Time
Wanda, a consistent breeder has had multiple successful offspring. She has been a BWBS Champion mare 2004 and BHHS Champion 2 year old in her own right. She has produced a BWBS Champion foal (Ballet Time by Bertoli W) , BWBS Champion mare (Diminuendo by Don Frederico), BHHS Champion 2 year old (Lucille by Lauries Crusador) and BWBS Perfomance test winner Woodlander Rallantisez 2008.
Wittinger is one of Weltmeyer's excellent sons. He won his performance test and was a Bundeschampion. His offspring are noted for excellent type and gaits. Cavalier's most successful offspring was Blue Hors Cavan, Olympian, 4 times Danish Dressage Champion and winner of 49 Grand Prix classes. Cavalier has 3 offspring competing at the 2004 Olympics.
She has produced 6 foals at Tramontana :
Lucille : 2008 filly by Lauries Crusador. BHHS Champion 2 year old, BHHS 1A 2011
Ballet Time : 2009 filly by Bertoli W. BWBS Champion foal. BEF Futurity Higher 1st 2011 and 2012. BHHS Reserve Supreme Champion 2012.
Borasco : 2010 filly by Buddenbrock. BEF high 1st 2010.
Capella : 2012 colt by Christ. BEF Higher 1st 2012.
Chasing The Dragon : 2013 colt by Christ. BHHS Regional Foal Show Champion.
Fieramente : 2014 colt by Fürstenball
| | |
| --- | --- |
| Lucille | Rallentisez |

Worena
(Warkant x Akzent I x Der Loewe xx)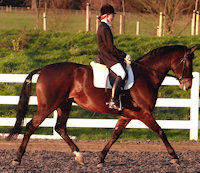 Worena
From a true competition family: the mother St Pr Adena and grandmother Luedge have all consistently produced advanced dressage competition horses. Warkant is known as a producer of competition horses with excellent gaits. Wansuela Suerte, Olympian gold medallist with Hubertus Schmidt is the most recently well known. Warkant produced 19 licensed stallions but is particularly well known as a mare producer. Akzent I was known for providing good temperament and improving conformation and type and the Thoroughbred Der Loewe xx was one of the earlier Thoroughbred refiners. He proved himself on the racetrack prior to commencing a breeding career which produced good dressage horses and show jumpers. Worena qualified and competed in the Rheingold National Potential Dressage 6 year olds class prior to becoming a broodmare.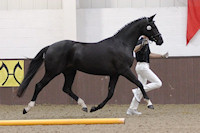 Spinning World
She has produced 6 foals:
Da Capo Aria: 2005 filly by Dimaggio. Performance tested BWBS First Star
The Phoenix : 2007 colt by Samarant
Elite Spinning World : 2008 filly by Sandro Hit. BHHS 1A 2011. BHHS Mare perfomance test winner 2012- Elite dressage and jumping.
Hermione: 2009 filly by Hotline - 3rd in filly class 2009
Suestado: 2010 filly by Sandro Hit. BEF High First 2010
Scorsese : 2011 colt by Sarkozy. Highest placed foal at BHHS Regional foal

Hermionie
(Hotline x Warkant x Akzent I 2009 Bay filly)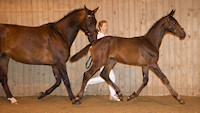 Top quality filly, uphill gaits and good swing thorough her back. She comes from an excellent competition family and is destined to be very good. She has a large frame and will take time to mature. Hermionie was 3rd at The BWBS foal championships.
Hotline (Hofrat x De Niro x Wendepunkt) has exceeded all expectations becoming the undisputed champion of his stallion licensing receiving an above average score of 157 and a 10 for rideability. He was the 2008 Danish National Champion and at the age of 7 competed successfully at S level. He has multiple offspring competing at the Bundeschampionate and consistently has high priced foals and ridden horses at the auctions.
She has produced 1 foal :
Grey Eagle : 2014 colt, Oldenburg premium, BEF Elite
| | | |
| --- | --- | --- |
| Hermionie | Hermionie | Grey Eagle |

Roccata
(Royal Angelo I x Weltmeyer x Duerkheim)
Roccata and Floriata
Roccata competed at medium level prior to sustaining an injury before becoming a broodmare. A very elegant mare, with well set neck and good gaits she combines the classic combination of a "R" and "W" line making her very rideable and trainable. Royal Angelo's mother, Adone, produced licensed stallions Royal Angelo I and II and also world famous Rembrandt. Her sister Antine, produced Rubinstein. This pedigree is combined with Weltmeyer, who has produced 86 licensed sons and 433 State Premium mares in his long and successful career.
She has produced 2 foals:
Floriata : 2011 filly by Floriscount. Highest scoring dressage foal BEF Futurity Crofton . BEF Higher First 2014 qualifying for the BEF Equine Bridge, BHHS 1A mare 2014 and BHHS Reserve 3 year old and Youngstock Champion.
Diminuendo : 2012 filly by Don Romantic. BEF Futurity Higher 1st 2012 with 9.5 for trot and 9.5 for canter.

Patron Saint
(Pascal x Patron (Trak) x Rubin (Trak) )
In foal to For Romance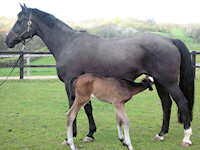 Patron Saint
Patron Saint trained to advanced medium level prior to an injury and becoming a broodmare. She had a particularly impressive hind leg which was a trade mark feature from her father Pascal. She produced 3 foals before coming to Tramontana, two of which were sold abroad.
Pascal (Pik Bube-Duft-Der Lowe xx) competed at Grand Prix and stood with Donnerhall at Gronwoldhoff. His offspring were renowned for their exceptional movement, hind leg and enormous elasticity. Pik Bube is well known for producing beautiful horses with good type. He produced 28 licensed sons and multiple top dressage horses. Pascal's dam, St. Pr. Duft Lady, produced 2 licensed sons and her mother bred the German Bundeschampion Aragonia.
Spring Pascal, by Pascal, is currently competing at Grand Prix with Samantha Thurman-Baker.
Patron was a pillar of Trakehner breeding used extensively in the Rhineland breed to refine the breed. He sired more state premium daughters than any other stallion of his time. Rubin was noted for an outstanding trot and very good canter.
She has produced 3 foals:
Don Pascal : 2012 colt by Don Romantic.
Silk : 2013 filly by Spörcken. BEF Futurity 2013 Elite.
Gulfstream : 2014 colt by Grey Flanell, Oldenburg Premium.

Da Capo Aria
(Dimaggio x Warkant x Akzent I)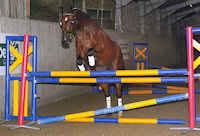 Da Capo Aria
Da Capo Aria is the 1st foal from Worena who was performance tested in 2008 BWBS and achieved First Star.
Dimaggio (Don Primero x World Cup I X Lindberg ) was World Breeding Champion as a 5 year old. He was reserve champion at his performance test, receiving a 10 for his trot. His sire Don Primero competed at Grand Prix and was himself a Bundeschampionate winner. The dam sire World Cup I won his performance test and was Hanoverian stallion of the year twice. Dimaggio has produced several top priced auction foals and horses in Germany, licensed stallions and is represented successfully through British breeding winning all categories at the 2009 British Breeding awards.
She has produced 2 foals:
Brioso: 2010 filly by Benetton Dream
Il Divo : 2011 colt by Imperio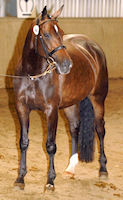 Delilah
Delilah
(De Niro x Parabol x Efendi)
De Niro (Donnerhall x Akzent II x Wiesenbaum xx) was selected as Hanoverian stallion of the year 2008. To date he has produced more than 60 licensed sons and multiple competition horses with excellent temperament and rideability.
Delilah was bought from the Vechta Elite foal auctions. She was the BWBS 2003 Champion mare.
Delilah's mother Parabola was a show jumper before becoming a broodmare. Most of her foals were awarded a Verband-premium. Her Grandmother is the mother of approved stallion Depardieu by De Niro and the brilliant mare Elfira by Rohdiamant. The mother line has also produced approved Oldenburg stallions De Vito and De Kuyper (both by De Niro), several State Premium mares and many foals sold at the elite Vechta auctions.
She has produced 2 foals:
Damita: 2005 filly 1st Premium foal by Dimaggio - performance tested BWBS First Star
Doctor One: 2007 colt 1st Premium foal by Dimaggio
| | |
| --- | --- |
| Damita | Doctor One |