YOUNGSTOCK
Chasing the Dragon : Christ x Wittinger x Cavalier 2013 Bay colt
BHHS Regional Foal Show Champion 2013.
This bay colt says "look at me". Long legged, well muscled and uphill with excellent gaits. Full brother to Capella.Capella : 2012 colt by Christ. BEF Higher 1st 2012.
Christ has already produced licensed sons Cold Diamond, Cristall and Cazar.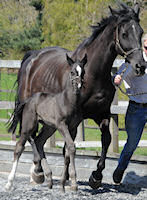 Silk : Spörcken x Pascal x Patron 2013 Black filly
BEF Futurity Elite 2013.
Stunning filly, beautiful type and uphill gaits.
Spörcken (Sir Donnerhall I x Lauries Crusador xx x Weltmeyer) clearly won his performance test with 10 for canter and 9.5 walk and trot and 9 for rideability, character and temperament. His first foals in 2012 have been hugely successful. Spörcken was awarded the prestigious Welmeyer prize by the Hanoverian Verband for the most outstanding young stallion in 2012.

Don Pascal : Don Romantic x Pascal x Patron (Trak) 2012 Dark Brown Colt - SOLD
This colt is tall and long legged. Super hind leg, balanced and big walk.
Don Romantic (Don Schufro x Romancier x Mago xx) was Danish stallion of the year 2010. He was Danish Warmblood Foal of the Year in 1999 and was champion of his Keuring receiving 10's for his canter and rideability and 9.5 for other gaits. He has sired 14 licensed sons and many gold medal mares, young horse champions and dressage horse all over Europe. The Danish Warmblood foal report concludes that Don Romantic passes on his outstanding type, extraordinary basic gaits and matches a wide range of mare types. Don Romantic is solidly bred on dressage performance; Don Schufro, Romancier and Mago xx all have won internationally at advanced dressage level.

Diminuendo : Don Romantic x Royal Angelo x Weltmeyer 2012 Dark Brown Filly
This filly is similar in type to Don Pascal, but lighter and more elegant. She also has a super hind leg. She received a higher first at the BEF Futurity and 9.5 for her trot and canter. The panel commented on her superb hind leg and very good athleticism. With her mother's breeding this filly is line-bred to the stallion Rosenkavalier.

Capella : Christ x Wittinger x Cavalier 2012 Dark Brown Colt
Christ (Competent x Picard x Daimyo xx) combines the ability to introduce jumping genes into a pedigree , whilst still producing predominately dressage offspring. The juming genes are important to ensure strength through the back and hind quarters. Christ was reserve champion at his licensing. He is picture perfect and shows maximum elasticity in his gaits. His sire Competent has aptitude for dressage and jumping. Capella is long legged, very beautiful and supple.

Floriata : Floriscount x Royal Angelo x Weltmeyer 2011 Bay filly. BHHS Reserve 3 yr old Champion and Youngstock Champion
This filly is long legged, elegant with very uphill gaits. She has an excellent walk and uphill canter. Floriata was the highest scoring dressage foal at the BEF Futurity at Crofton Manor scoring 8.9 overall. Floriata again received a BEF Higher First in 2014 and is now qualified for the BEF Equine Bridge. She also received her prestigious 1A at the BHHHS Annual show and became Reserve 3 year old Champion and Reserve Youngstock Champion.
Floriscount (Florencio x Donnerhall x Walldorf) was the undisputed dressage champion (score 147.5) at his performance test receiving 10's for rideability from both test riders and 10 and 9.5 for the canter.
He is a large framed, very leggy individual who passes on his striking frame and elegance to his offspring. At the 2011 German foal championships in Lienen, Floriscount stood out as one of the best represented sires with 3 of the final 12 foals in the line up carrying his genes.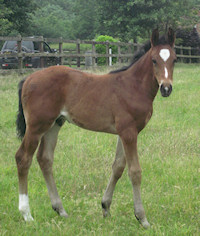 Il Divo : Imperio x Dimaggio x Warkant 2011 Bay colt - SOLD
This colt oozes suppleness in all 3 gaits and has a stunning walk. He has a beautiful head and wonderful temperament, very relaxed and easy to do in all aspects. Il Divo was the highest scoring foal at his Regional BHHS show.
Imperio (Connery x Balfour xx) was Reserve Trakahner Champion at his licensing in 2005. He won the Bundeschampionate in 2008 as a 5 year old, receiving 10 for his trot and 9's for canter and submission. He won the silver medal in the same year at the World Breeding Championships in Verden. He currently is competing at International Small Tour with Hubertus Schmidt and was placed 2nd at CDI Hagan in the Inter I and 3rd in the CDIO Aachen at Inter II. He is destined for great success.

Malthouse Farm, Cods Hill, Beenham, Berkshire RG7 5QH
Tel: 01189 713841 Mobile : 07836 377125 Email: nicole@n-t-c.co.uk